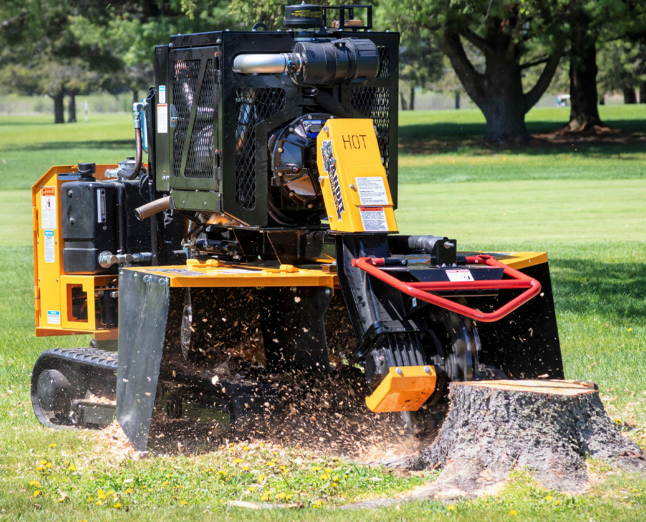 What kind of equipment do we use?
We use a Bandit SG-75 that has a powerful Kohler diesel engine with 74 horsepower. This stump grinder has the most horsepower of any in its class. More power means grinding stumps faster, which saves time, and time is money. Bandit's Super Sweep keeps users from taking too big of a cut and stopping the engine by automatically moving the cutter wheel away from a cut that is too aggressive. The SG-75's rubber tracks can be extended to a length of 55 inches, which makes it a very stable platform for grinding. When the tracks are retracted, they are only 35 inches long, which is small enough to fit through most backyard gates. This means that this unit can clear a lot of land quickly, but it can also be used as a backyard grinder in a residential setting.
The Highest Standard of Care Is Given to Each Stump-Grinding Task.
If you need the services of professional stump grinding and you are located near Vancouver, Battle Ground, Hazel Dell, Salmon Creek, Orchards, Brush Prairie, Ridgefield, Camas, Washougal, Portland, or the surrounding regions, look no farther than Land Clearing NW.
For all your stump grinding needs, count on Land Clearing NW. We're a small company dedicated to your satisfaction on every job. Veterans and seniors enjoy a 10% discount when they hire us to grind their stumps. Get a no-obligation quote right now by calling.
We work with both above- and below-ground grinding. We utilize a remote-controlled machine for precision and safety. Inquire about our 24/7 availability and same-day services. Vancouver, Battle Ground, Hazel Dell, Salmon Creek, Orchards, Brush Prairie, Ridgefield, Camas, Washougal, Portland, and the surrounding communities may learn more about our stump grinding services by contacting our professional crew. We'll do our best to answer any questions you have.
How Much Does It Cost to Remove a Tree Stumps?
Most stumps are priced by how big they are. The average size is 24 inches, which costs $150 to $700 to remove. Up to $1,100 can be paid for a big tree stump that is 72″ in diameter. Many professionals who take out tree stumps charge extra for things like location, level of difficulty, root structure, and so on.
How much does stump grinding usually cost?
The size and number of stumps determines the cost of stump grinding services. It is always best to have us measure your stump to give you a quote.
How long does it take to get rid of a tree stump?
Stump grinding can take anywhere from 20 minutes to an hour, depending on how big the stump is. Colorado State University says that most tree roots are between 6 and 24 inches below the ground. Our team will get the job done on time.
Do you remove wood chips?
When the job is done, our team of stump grinders rakes and cleans up the site so it looks good. As this is a professional stump-grinding business, we don't haul away extra mulch for two reasons:
1. To compensate for the lost time grinding, we must charge as much as machine time.
2. We offer the best service and put all of our efforts into getting rid of as many stumps as possible in the most effective way.
Do you have a license and insurance?
Yes, we are fully licensed and insured for stump grinding services to make sure you are protected. 
What should I do to get ready for a stump grinding?
Before our stump grinding  services, the work area needs to be free of rocks and other debris. If we miss any part of a stump, we'll go back to the site and grind it again for free. But no part of a stump, including its roots, will be removed or covered by our re-grind protection program if it is covered by rocks or other debris or is too close to houses, fences, etc. at the time of removal.